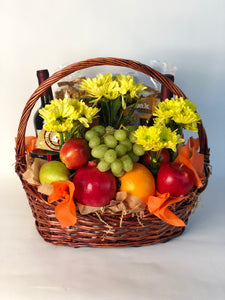 A festival of color and taste! A gorgeous presentation of 
*Fresh fruits 
*Two bottles of Napa Valley red wines,
*Rustic crackers
*Molinari salami,
*Olive Tapenade ,
*Velle cheese
*Chocolate covered cookies,
*Thatcher's Gourmet Caramel popcorn
*Le Belge truffles,
*Toffee pretzels 
*Flowers for decoration 
Note:  We can't ship fruits, and flowers but we can substitute with other products of the same value.
HAND DELIVERY OUTSIDE OF SAN FRANCISCO DEPENDS ON THE DESTINATION.
PLEASE CALL US FOR MORE INFORMATION AT 415.551.7720.
Adult signature required.