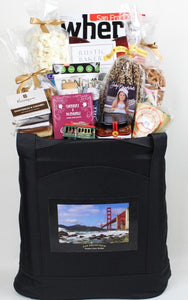 Maps, magazine, local artisan snacks are all included in this SF canvas shopping tote.
We included
Alfajores shortbread cookies,
Amourette or Le Belge local Artisan chocolate bar,
SF fancy mixed nuts,
Judy's gourmet breadsticks,
Fruit jam,
Cheddar cheese bar,
Rustic Bakery organic crackers,
Roxanne's biscottis,
SF butter toffee pretzels,
Gourmet cheese popcorn,
Ceramic cable car magnet souvenir.
Great gifts from San Francisco for any occasion or just to welcome your guests.
Hand delivery rates outside of San Francisco depends on the destination. Please call us for more information at 415.551.7720.