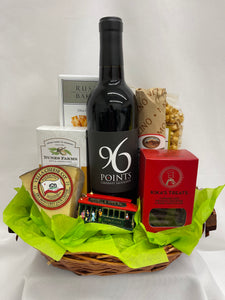 We included
*Napa red or white Wine,
*Salami,
*Sourdough Flatbread Crackers
*Dry Jack cheese aged in Sonoma,
*Nunes Sea salt roasted almonds,
*Kika's caramelized Graham crackers hand dipped in dark chocolate,
*Old fashioned SF caramel corn,
*Ceramic cable car souvenir.
This will be wrapped in cellophane and tied with French ribbons.
COST OF HAND DELIVERY OUTSIDE OF SAN FRANCISCO DEPENDS ON THE DESTINATION.
PLEASE CALL US FOR MORE INFORMATION AT 415.551.7720
ADULT SIGNATURE REQUIRED