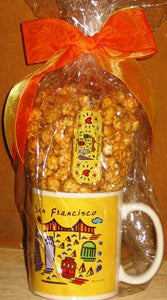 Famous San Francisco Thatcher's caramel popcorn cooked the old fashioned way, presented in a San Francisco mug with souvenir key chain. It would be a nice way to invite your guest and send a taste from the city or to welcome them and have their souvenirs with the sweet taste to take back home with them. Also it's a great treat for your conference attendees.
HAND DELIVERY OUTSIDE OF SAN FRANCISCO DEPENDS ON THE DESTINATION.
PLEASE CALL US FOR MORE INFORMATION AT 415.551.7720.