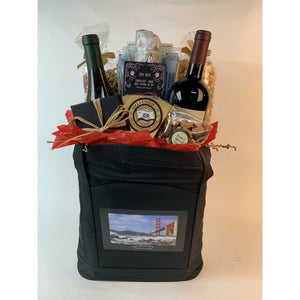 Artfully arranged and presented, by choosing this basket  you're not only sending a gourmet assortment of food and wines, but also a message; this tote can be used as a shopping bag, grocery bag, so you're also contributing to saving the environment. All the contents are all natural, hand made and local products, also helping local businesses;
Rustic flat bread organic sourdough crackers with sel gris,
Vella Cheese dry Jack,
Molinari Salami,
Sea Salt sampler chocolates,
Thatcher's gourmet popcorn,
Almond Biscotti,
San Francisco's L'Amourette dark chocolates,
Fancy roasted Mixed nuts,
Butter toffee pretzels,
Red and White bottles of Napa wines.
We will cello wrap it and tie it with French ribbons.
Adult signature is required.
Hand delivery rates outside of San Francisco depends on the destination. Please call us for more information at 415.551.7720.