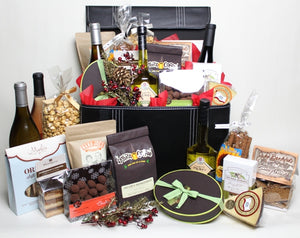 Luxurious taste and presentation of some of the best wine and treats the Bay Area can offer. We included
Napa Valley's best in red wine and Chardonnay,
Cuisine Perel  olive oil and white truffle bottle,
Nunes farms sea salt almonds,
Kika's Treats chocolate covered Graham crackers
Judy's breadsticks with sunflower seeds
Vella Sonoma cheese wedge,
Le Belge box of truffles,
Judy's sourdough crackers with sesame seeds,
Chocolate covered almonds,
Philz SF coffee,
Nana Joe's handmade granola with dried fruits and nuts,
Roxanne's Biscottis,
Gourmet caramel corn.
All artfully arranged in a faux leather box, cello wrapped and tied with French ribbons.
ADULT SIGNATURE REQUIRED
HAND DELIVERY OUTSIDE OF SAN FRANCISCO DEPENDS ON THE DESTINATION.
PLEASE CALL US FOR MORE INFORMATION AT 415.551.7720