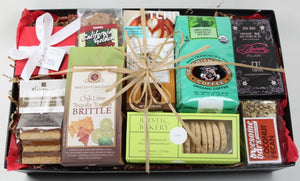 An assortment of local gourmet specialty food. We included
Chili lime tequila tortilla brittles,
Alfajores cookies,
Sea Salt sampler chocolate box,
Butter toffee pretzels,
Tcho moccaccino organic chocolate bar,
Nunes Farm sea salt roasted California almonds,
Organic rustic bakery Meyer Lemon shortbread,
Awesome bar raw granola with fruits,
Amourette artisan chocolate bar,
Philz SF coffee.
All presented with elegance in a hostess tray.
Hand delivery rates outside of San Francisco depends on the destination. Please call us for more information at 415.551.7720.