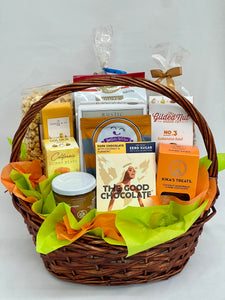 A mixed collection of San Francisco local products. 
A bunch of savory and sweet snacks locally made in the Bay Area. 

It includes: 
Rustic crackers
Cheddar cheese
Thatchers Gourmet popcorn 
Becca's petite, healthy snack mix
mixed nuts
Kikas gharam crackers
California Gummy bears 
Maison de Monaco jam 
A bar of  The Good Chocolate 
Toffee Pretzels 
Chocolate Wafer
Judy's bread sticks 
It can be shipped and delivered all over the nation.